The Saline Memorial Breast Imaging Center is dedicated to comprehensive imaging services for women. Our goal is to produce high-quality images to be able to detect and diagnose breast cancer at its earliest state as possible.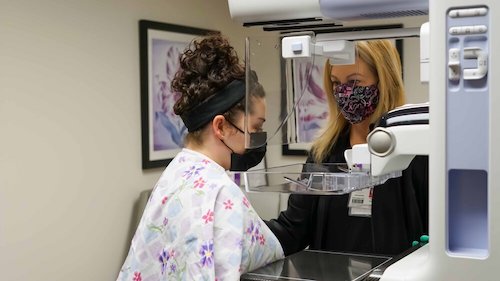 Our digital mammography technology provides clearer images, a 40-50% reduction in radiation exposure, faster results and in some cases, more accurate diagnosis in the earliest stages of breast cancer. From the patient's viewpoint, a digital mammogram is virtually the same as a standard film mammogram, in terms of breast compression.

With a digital mammogram, the image of the breast shows up on the computer monitor in less than a minute after the exposure is complete. The digital image can be manipulated to enhance the image after the exam is complete. The magnification, orientation, brightness and contrast of the image may also be altered after the exam is completed to help the radiologist see certain areas of the breast more clearly.
Most doctors feel that early detection tests for breast cancer save many thousands of lives each year, and that many more lives could be saved if more women took advantage of these tests.